Before becoming a freelance writer, I worked as a writer and managing editor for a medical communications agency for 4 years. Before that, I was a writer, editor, and creative services director at the University of Maryland, Baltimore (UMB) where I wrote and produced magazines, newsletters, brochures, web pages, and other materials for the schools of medicine, nursing, pharmacy, dentistry, law, and social work. My first writing job was as a clinical science writer for the American Society of Health-Systems Pharmacists.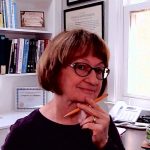 I have a master's degree in pharmacology & toxicology from Dartmouth College/Medical School (now the Geisel School of Medicine at Dartmouth), and a bachelor's in psychology from the University of Buffalo. I continued my education with courses in journalism, health literacy, and plain language writing. I took part in a recent summer workshop on science writing for children, offered by the Highlights Foundation. I'm currently studying Spanish.
I live in the Baltimore-Washington DC area. In 2018, I became a Maryland master naturalist and started leading local group walks to share what I learned—and continue to learn—about birds, bugs, critters, plants, and more in our own backyards. And I'm still trying to play the piano.